| | |
| --- | --- |
| Welded Type | Galvanized After(Before) Welding |
| Width | 0.5m-2m |
| Transport Package | Waterproof Paper + Carton + Pallet |
| Specification | 1inch 1/2inch 1/4inch 3/8inch |
| Origin | Hebei China |
| HS Code | 7314410000 |
| Production Capacity | 5000 Square Meters/Day |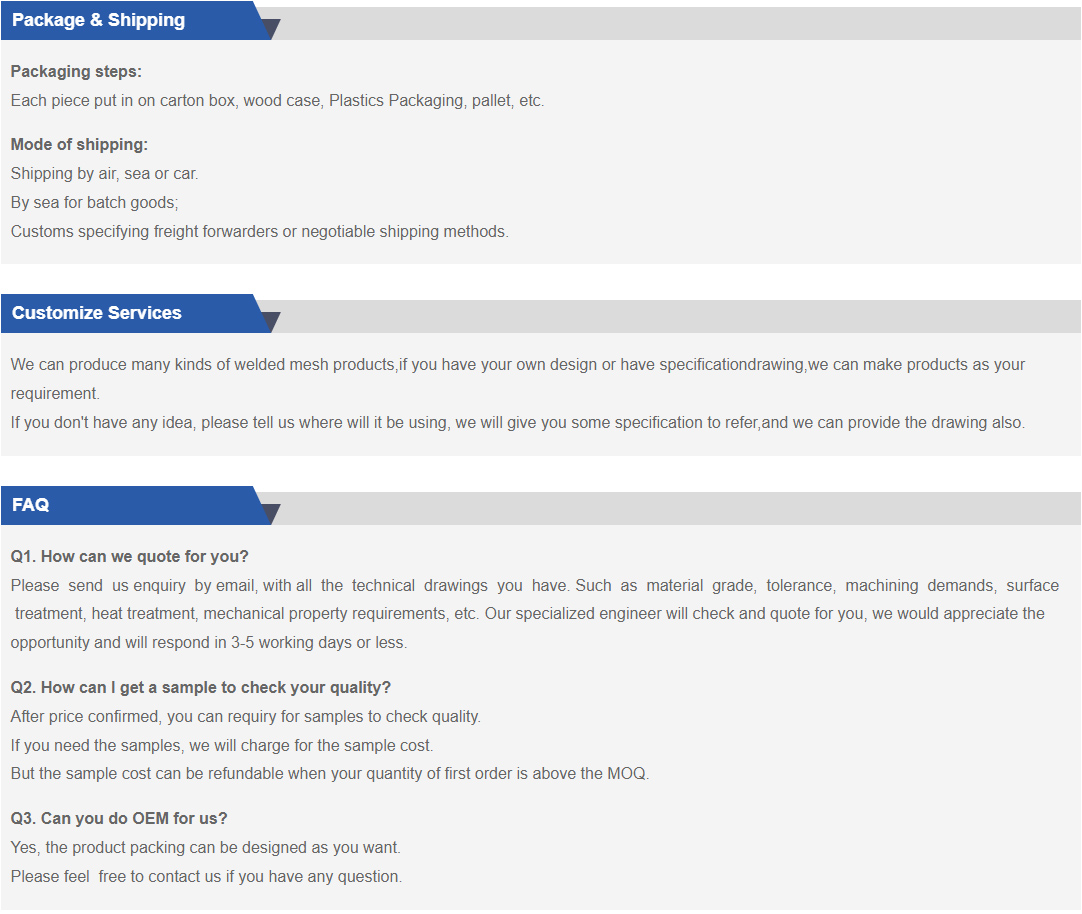 Easy to use
Flexible and rust resistance
Can be cut easily with scissors
Easy to install
MULTIPURPOSE for YARDWORKS: This flexible wire mesh roll can be used for a variety of home and garden projects, such as snake fence, rabbit run, chicken coop, duck pen, vegetable garden, screen doors, tree guards, drains, gutters, under eaves, soil sifters, and much more
GARDEN PROTECTORS: Ideal enclosure to keep your chicken, rabbit and their food safe from small rodents like rats, mice, moles, snakes. protect your garden fruits and vegetables from rodent animals
ALVANIZED RUST PROOF: Galvanizing after welding to ensure that all welding points are galvanized Providing maximum rust resistance and long life, cut easily with scissors
36 in x 100 ft wire mesh roll, 1/2 opening mesh, 19 gauge
Please contact us if there is anything we could help
Where can this product be used?
1. Animal barrier or poultry control Garden fence animal barrier, use on the floor of a coop, in a chicken run, screen doors, tree ring or tree guard. It is strong enough to hold up against larger animals as well.
2. Sifter with a wood frame You can just put the mesh straight on the bucket until it's filled with loose compost. You can also build compost bins with hardware cloth. 1/4 in. square mesh is appropriate.
3. Garden bed protector Wire mesh fencing use on the bottom of a raised garden bed and flower beds to allow drainage and root growth, but keep rodents, moles, snakes, squirrels, garden weasel, raccoons and other animals from getting to your garden, it's like a plant protector.
4. Window/door screen A hardware cloth mesh screen can keep out any potential predators. This allows you to keep the windows open over night which helps keep the residents nice and cool.
5. Tools in craft or hobby activities
How to build a garden raised bed?
1. Create a four-sided rectangle structure using lumber.
2. Use deck screws to fasten them.
3. Cut the hardware cloth to a suitable size and nail it to the wooden frame.
4. Add enough soil mix to fill the bed.
5. Add seeds or plants
Hign quality
Heavy duty hot-dipped galvanized.
Galvanizing after welding to provide great rust resistance and long service life.
Multiple uses
Animal barrier or poultry control
Sifter with a wood frame
Garden bed protector
Window/door screen
Tools in craft or hobby activities