The advantages of using expanded metal are numerous and depend on the specific application. Below we have listed a few of the reasons for selecting expanded metal.
Light and cost efficient
It is a great advantage that expanded metal is not assembled nor welded, but always made in one piece.
No metal is lost in the expanding process, hence expanded metal is a cost effective alternative to other products.
Because there are no strained joints or welds, expanded metal is stronger and is ideal for forming, pressing and cutting.
Due to the expansion the weight per metre is less than that of the original sheet.
Due to the expansion a much bigger open area is possible compared to other similar products. 
Greater strength
The three-dimensional shape of the meshes is another advantage since the areas where the meshes meet are strong and enable the material to stand a far heavier point load than similar products or a flat sheet.
Anti-skid qualities
Some patterns have a type of mesh with special qualities that not only make the surface non-skid, but also give the expanded metal water and wind repellent qualities.
Ideal for secondary operations
The expanded Metal is ideal for secondary operations. To save time and to help reduce your costs  offers to handle the secondary operations for you. It could be flattening, bending, welding, hot dip galvanising, painting or anodising of the expanded metal.
Q1. How can we quote for you?
Please  send  us enquiry  by email, with all  the  technical  drawings  you  have. Such  as  material  grade,  tolerance,  machining  demands,  surface  treatment, heat treatment, mechanical property requirements, etc. Our specialized engineer will check and quote for you, we would appreciate the opportunity and will respond in 3-5 working days or less. 
Q2. How can I get a sample to check your quality?
After price confirmed, you can requiry for samples to check quality.
If you need the samples, we will charge for the sample cost.
But the sample cost can be refundable when your quantity of first order is above the MOQ.
Q3. Can you do OEM for us?
Yes, the product packing can be designed as you want.
Please feel  free to contact us if you have any question.
| | |
| --- | --- |
| Model NO. | AG-019 |
| Weave Characteristic | Stamping |
| Surface Treatment | Coated |
| Stamping Expanded Metal Mesh Category | Expanded Metal Mesh |
| Galvanized Surface Treatment | Hot-galvanize |
| Hot-galvanize Technique | Line Annealing |
| Specifications | Roll |
| Weight | Light-weight |
| Transport Package | Wooden Box |
| Specification | 3.5x3.5mm |
| Origin | China |
| HS Code | 7616991000 |
| Production Capacity | 500 Rolls/Week |
We can produce many kinds of welded mesh products,if you have your own design or have specificationdrawing,we can make products as your requirement.
If you don't have any idea, please tell us where will it be using, we will give you some specification to refer,and we can provide the drawing also.
Expanded metal specification:
Materials: carbon steel, low carbon steel, iron, aluminum, stainless steel, copper, titanium.
Expanded metal thickness: 0.3mm-20mm.
Expanded metal panels siezes: 1/2,3/4,1'× 2',1' × 4',2' × 2',2' ×4',4' × 4',4' × 8',5' × 10',or made to size.
Surface treatment: hot-dip galvanizing, anti-rust paint, powder coated, PVC coated, etc.
Opening style of expanded metal:

How is expanded metal made?
Expanded metal Sheet is produced from metal sheet or roll through stamping and expanding, which forms a wide array of diamond shaped openings with uniform sizes.
Compared with the traditional flat metal sheet, expanded metal mesh has more notable advantages for its versatile applications.
Owing to the expanding process, the metal sheetcan be expanded up to 8 times its original width, losing up to 75 % its weight per meter, and becomes harder.So it is lighter, less expensive than a single metal sheet.
What is expanded metal?
Expanded metal mesh types includes raised expanded steel mesh (also called standard or regular expanded metal) and flat expanded metal mesh.
Raised expanded metal mesh has diamond openings with slightly raised surface. Flattened expanded metal mesh is manufactured by passing the standard expanded sheet through a cold roll reducing mill, forming diamond openings with flat surface.
The form of the meshes is normally rhombic but more shapes are available, such as hexagonal, oblong and rounded. The size of the meshes varies from very small meshes 6 x 3 mm suitable for filters, to very large meshes 200 x 75 mm often used for architectural applications.
The materials most often utilised for expanded metal are mild steel, aluminium and stainless steel, but we also offer in other materials (brass, copper, titanium, zinc, etc).
The length and width of the sheet and the grid parameters are always described according to the following pictures.
Packaging steps: 
Each piece put in on carton box, wood case, Plastics Packaging, pallet, etc.
Mode of shipping: 
Shipping by air, sea or car.
By sea for batch goods;
Customs specifying freight forwarders or negotiable shipping methods.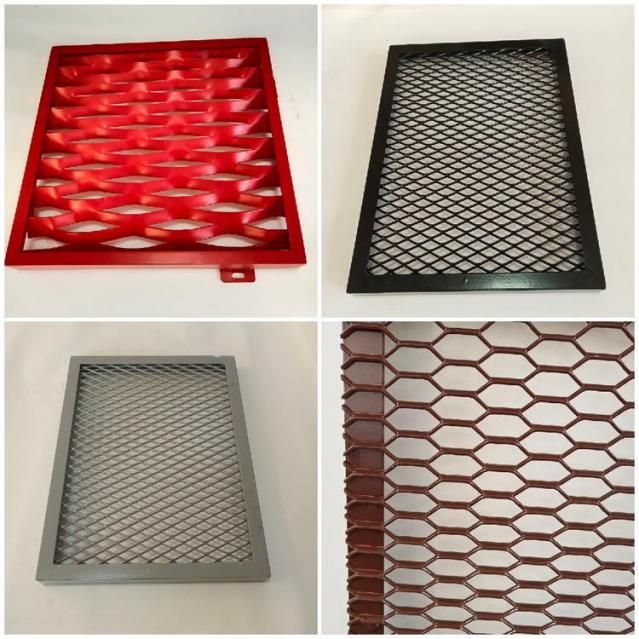 The different types of meshes have different degrees of strength since the open area and weight of each type can vary substantially. Below we have listed examples of the many situations where expanded Metal can be used with advantage.
The high strength and the anti-skid qualities make expanded metal most advantageous for:
Walkways
Footbridges
Footsteps
Ramps
Platforms
and similar applications.
Expanded metal can also make an effective barrier and is favourable for use in security/safety applications to protect e.g. buildings, people or machines. Expanded metal also achieves a sound reduction and shielding effect, ideal for use in airports and bus stops.
Expanded metal is a very popular material for today's architectural and industrial design and our many customers all over the world use it for many other applications apart from those mentioned above. 
Building / Architecture
Examples of applications in buildings where the use of  expanded metal will be a benefit:
Cladding
Ceilings
Facades
Sun protection
Fencing
Shielding
For these applications the  expanded metal most commenly used has a rib width larger than 20 mm.
Expanded metal can also be used for reinforcing concrete, plastic, artificial materials or for acoustic panels.
It also works well as a decorative product where there is a requirement for a coarse appearance.
Feel free to contact us for more information and let us find the right solution to your needs.
Examples of applications in the agricultural and industrial sectors where the use of expanded metal will be beneficial:
Filtration
Ventilation
Laminated metal for draining floors for farm buildings
Floors in containers
Heat exchangers for several applications to hold the tubes
Earthing of electricity
Walkways for cranes
Protection / shielding in front of dangerous elements